Zhongsheng (881.HK) - Cumulative repressed Demand for Car Purchase is Expected to be Gradually Released
Investment Summary
Constant Enhancement of Profitability
Zhongsheng Group's turnover in 2019 increased by 15% yoy to RMB127.03 billion. Due to its outstanding performance of after-sales and other businesses, and the further optimization of its model structure, its operating profit increased by 20% yoy. At the same time, effective inventory management and expense control have stabilized the expense ratio, and ultimately the profit attributable to the parent company reached RMB4.5 billion, increasing by 23.8% yoy. Basic EPS was RMB1.98, dividends were RMB0.4, and the dividend payout rate remained stable at 20%.
The company's profitability increased slightly. The net profit margin increased by 0.26 ppts, and the net profit of a single store increased from RMB11.4-12.7 million to RMB12.5-14.2 million. The total number of 4S dealerships has increased to 360, with 42 new ones, of which 27 were self-built and 15 were acquired. The acquired stores are located in first- and second-tier cities such as Zhejiang, Beijing, Jiangsu and Guangdong. In terms of brand composition, the number of luxury brand dealers reached 208, increasing by 33, and mid- to high-end brands increasing from 9 to 132.
Premium Car's Sales Volume Exceeds Mid- to High-end Cars
The overall domestic auto market continued to decline in 2019, and the structured development trend was obvious, which was reflected in the following aspects: the first- and second-tier cities had the lowest sales volume decline. Automobile consumption presented a trend of regional differentiation, brand differentiation and model level differentiation. In high-tier cities, high-end consumption continued to be stable. Japanese high-end brands and German premium brands were selling well. It is expected that the pattern of differentiation will continue in the future. In 2019, the company's new car sales volume increased by 18.4% to 228,000 units yoy, accounting for 50.04%, up by 3.3 points, surpassing mid- and high-end for the first time, and its revenue share also increased by 1.3 points to 71% yoy.
Proportion of After-sales Service Increased, Contributing Nearly 60% of the Profit
In terms of revenue composition, the revenue from new car sales was approximately RMB106.2 billion, an increase of 13.9%. The revenue from after-sales and boutique business was approximately RMB17.84 billion, an increase of 22.9%. The proportion of revenue from new car sales business to total revenue decreased from 86.5% to 85.6% in 2018, while the proportion of after-sales and boutique business revenue increased from 13.5% to 14.4%.In terms of gross profit contribution, the proportion of gross profit from new car sales business decreased from 23.2% to 20.1%, while the proportion of gross profit from after-sales and boutique business increased from 57.3% to 59.8%; net value-added service revenue was RMB2.89 billion, an increase by 20%, accounting for about 20%. The financial penetration rate increased by 3.4 ppts yoy.
Cumulative repressed Demand for Car Purchase is Expected to be Gradually Released
In 2019, the company tended to be cautious about investment expansion, slowing down the pace of land acquisition and mergers and acquisitions. Capital expenditures decreased significantly by about RMB2 billion, and the interest-bearing debt ratio decreased by 8 ppts. Objectively, it also reduced the financial pressure during the COVID-19 pandemic, providing a guarantee for overcoming difficulties and long-term sustainable development in the future. In response to the pandemic, manufacturers and the government have both launched relief measures, and the company's inventory pressure and cash flow pressure have been eased. At present, the inventory ratio of the company's Japanese brand models is maintained at a low level, and its excellent product portfolio is expected to take the lead in the expected trend of the gradual release of users` car replacement needs in domestic first- and second-tier cities in the future.
Investment Thesis
We expect the company's EPS for 2020/2021 to reach 2.22/2.67 yuan and the target price of HK$45, corresponding to 2020/2021 18/15x P/E (considering its leading position). We gave a accumulate rating. (Closing price as at 29 May)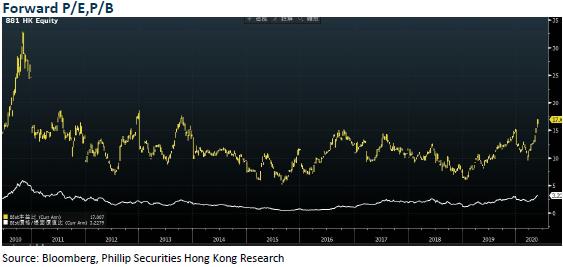 Financials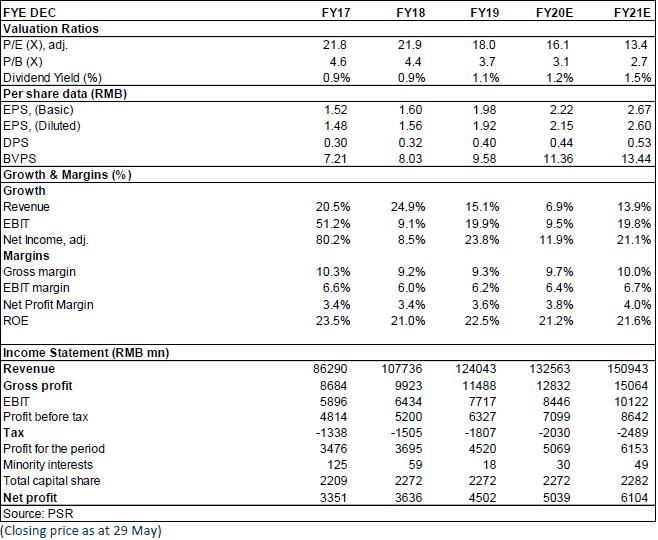 Back to Top