CNOOC (0883.HK ) - Maintain `Accumulate` Rating
Company profile
CNOOC is China's largest offshore oil and natural gas producer, and also one of the global largest independent oil and gas explorers and producers. Its main business covers exploration, development, production and sales of oil and natural gas.
Investment Summary
CNOOC announced it has completed its acquisition of Nexen Inc. (癒禮Nexen癒穡) on 26 February 2013. The company will gain the benefits from the U.K. North Sea, the Gulf of Mexico, and offshore West Africa, control the oil sands project with rich oil and gas resources in Long Lake, Alberta, and own the production properties in the Middle East and Canada. The Company's output and proved reserves would go up 20% and 30% respectively after this acquisition in expectation, and cause its reserve-production ratio to increase from 9.6 to 10.3 years.
Recently, ConocoPhillips got the approve document for the report of overall development and environmental impacts in Penglai 19-3 oil field. State Oceanic Administration (SOA) approved ConocoPhillips China (COPC) to resume production step by step, which is a very good news for the Company to bring the profitability to return to rising channel.
We still expect the international oil price would go up in the long term. The end of European debt crisis, increasing tense situation in the Middle East, and consistent depreciation of US dollar under quantitative easing (QE) would increase oil price. Different from Sinopec and PetroChina, the Company focuses on the exploration in upstream businesses benefiting from the increase of crude oil price, and does not take the risks from downstream businesses.
Currently China's explored area has less than 10% of total sea area. There is a bright future of offshore oil and gas exploration in the long turn. The Company owns absolute advantages in offshore oil and gas businesses compared to the peers due to the long-term focus on offshore oil and gas exploration and exploitation.
We still hold quite optimistic view on the Company's future performance, and the profitability would be improved step by step after the completed acquisition of Nexen, resumption of production in Penglai oil field and several early projects go in to production one after another. However, the performance of CNOOC is difficult to reach the target last year due to many bad factors, and the price therefore is hard to increase sharply in the short run. Overall, we cut the Company's 6-month target price to HK$16.70, maintain Accumulate rating.
Financial Statement and Predictions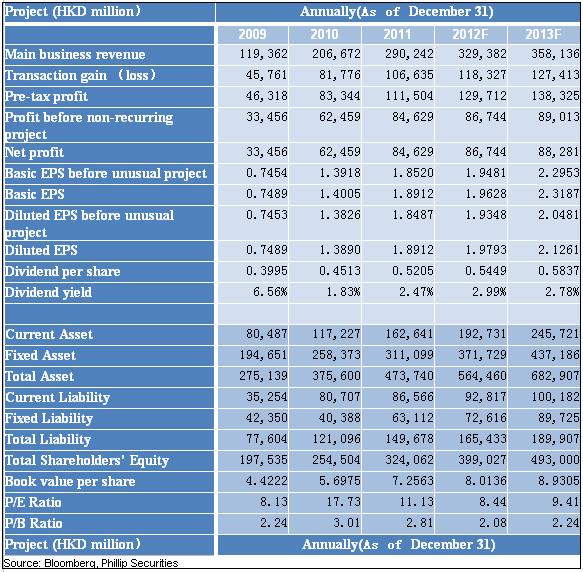 Back to Top