CMS (867.HK) - Innovative Development and Transformation Continues
Project Update
The company recently issued announcements on the progress of various businesses: 1. On 13 January 2020, Neurelis announced that the U.S. FDA had approved its product VALTOCO (diazepam nasal spray) as an acute treatment of intermittent, stereotypic episodes of frequent seizure activity (i.e., seizure clusters, acute repetitive seizures) that are distinct from a patient's usual seizure pattern in people with epilepsy 6 years of age and older. Moreover, the company has been actively carrying out the regulatory application and other related work of VALTOCO in China since Neurelis submitted the NDA to the U.S. FDA, and has recently acquired the clinical trial notice of diazepam nasal spray from the National Medical Products Administration of China. The company is required to conduct a comparative pharmacokinetic study in Chinese subjects, and to submit a post-marketing study plan to further verify the efficacy and safety at the same time of submitting the NDA. 2. The company has signed a Collaboration Agreement on 5 December 2019 with Cambridge Judge Business School (CJBS) and AstraZeneca, and it will invest in the UK biotech and life sciences sectors over the next five years. Since 2015, AstraZeneca has played a role in mentoring biotech and life sciences researchers and innovators and has partnered with CJBS on various programs to promote enterprise and support entrepreneurship amongst life sciences researchers and students. Through the Collaboration Agreement, the company, AstraZeneca and CJBS demonstrate a common objective of strengthening the pipeline of opportunities in biotech and life sciences, more specifically in the areas of therapeutics, diagnostics, devices and digital health, thus providing the invested companies with greater access to international markets in particular Greater China. 3. The company signed a License Agreement with Sun Pharma Advanced Research Company Ltd. (SPARC) for five innovative products on 5 November 2019. The company gained an exclusive license with the right to grant sublicenses to develop and commercialize the products in Greater China. The initial term of the agreement shall be 20 years from the first commercial sale of the products in the Territory and may be extended for additional 3 years increments conditionally. The five innovative products are: (1) TaclantisTM/PICS, indicated for metastatic breast cancer (MBC), locally advanced or metastatic non- small cell lung cancer (NSCLC) and metastatic adenocarcinoma of the pancreas; (2) XelprosTM Ophthalmic Emulsion, indicated for reduction of elevated intraocular pressure (IOP) in patients with open-angle glaucoma, or ocular hypertension; (3) PDP-716 Eye Drops, proposed for the reduction of elevated IOP in patients with open-angle glaucoma or ocular hypertension; (4) SDN-037 Eye Drops, indicated for eye pain and inflammation after cataract surgery; (5) ElepsiaTM XR Tablet, indicated as adjunctive therapy for the treatment of partial onset seizures in patients 12 years of age and older. 4. The company signed a License and Supply Agreement with Biocon Limited for three generic products on 12 September 2019, and it gained an exclusive license to register and commercialize the products in Greater China. The initial term of the agreement shall be 10 years and may be extended for every fixed period of two years on a product-by-product basis conditionally.
Innovation Research Drives Development
At present, the company's long-term object is focusing on innovation research, actively investing in overseas R&D companies or reaching strategic cooperation with a view to establish an innovative product group with sufficient competitive advantages and market potential to meet China's unmet clinical needs. In the med-term, the company focuses on complex generic drugs and through strategic cooperation with leading overseas generic drug companies, it plans to deploy complex generic drugs with high generic barriers. In the short-term, the company focuses on the distribution of high-quality generic drugs that have been listed overseas, and establishes a generic drug product group that has sufficient market competitiveness, high quality and affordable costs. In addition, the company, as a traditional medicine marketing and promotion enterprise, currently covers more than 57,000 hospitals and medical institutions in its promotion network, covering all provincial administrative regions in China, and basically covering the main departments of tertiary hospitals and secondary hospitals.
Raise TP and Maintain "Accumulate" Rating
We maintain our forecast for company performance growth using DCF model and residual income model to value. Assuming equity cost is 10.65%, debt cost is 5%, and WACC is 10.14%. We get TP of HKD 13.88 and HKD 13.35 respectively. The higher valuation result corresponds to FY19/FY20/FY21 15.14x/14.41x/13.59x PE, which has an increase of +10.85% compared to the current price (HKD 12.04 as of January 17, 2020), maintaining an 癒禮Accumulate癒穡 rating.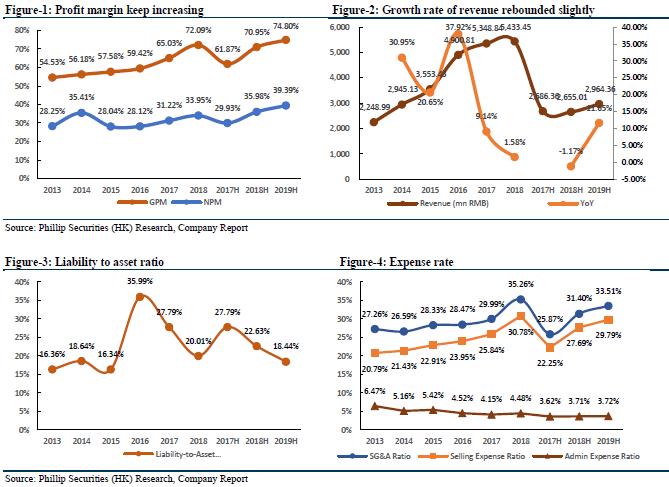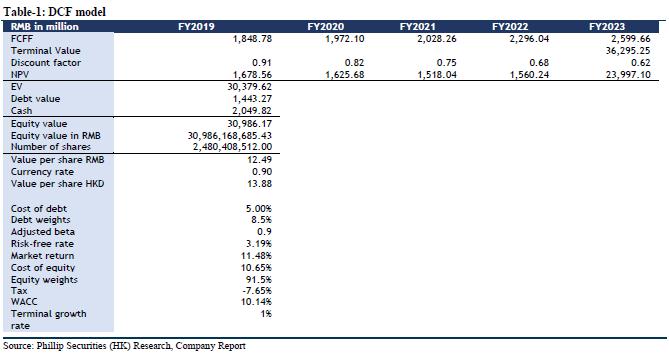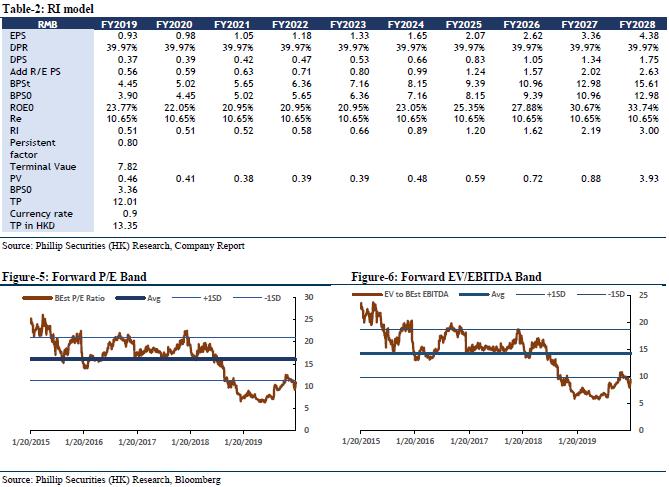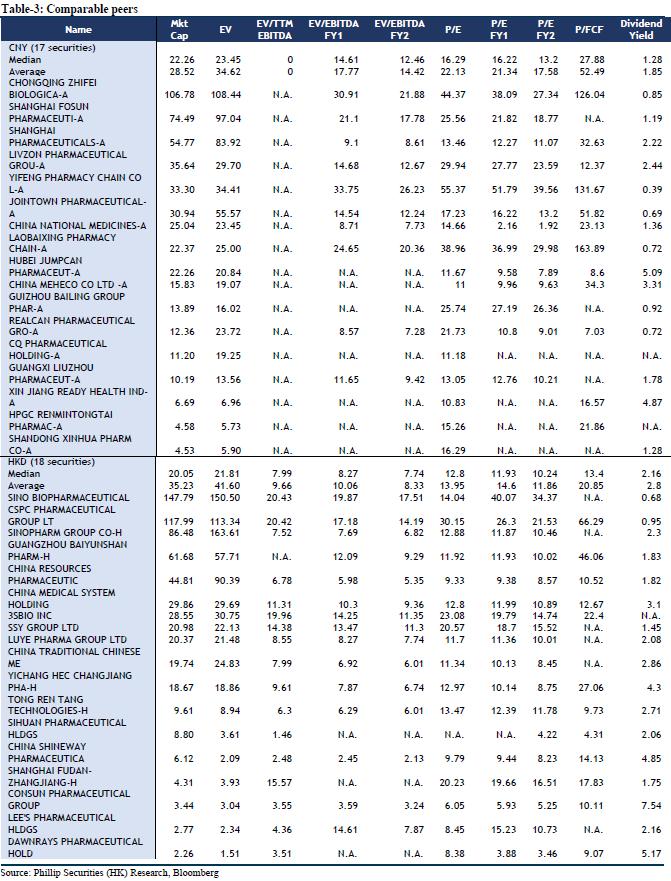 Risk
The launch of new products fails expectations; Industry policy risk.
Financials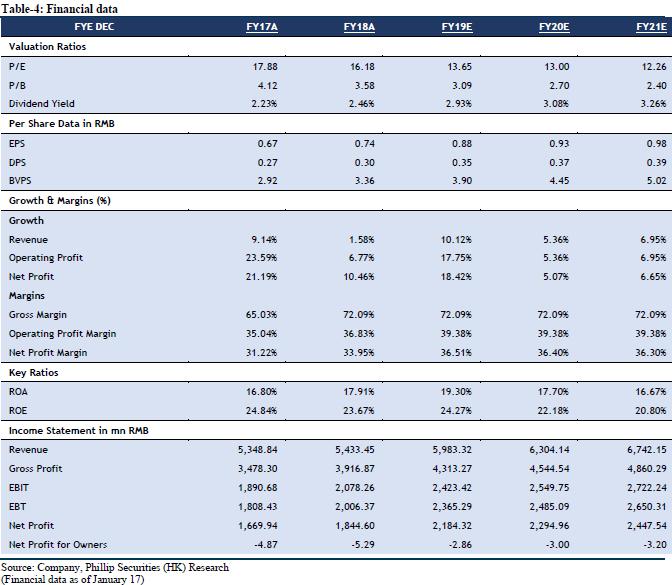 Back to Top