Tencent Holdings (700.HK) - Optimistic ``Internet +`` Strategic Outlook
2015 Results Continued to Grow Rapidly
The total revenue and net profit of Tencent Holdings in 2015 stood at RMB102.9 billion and RMB28.8 billion, a YoY increase of 30% and 21% respectively. Besides, its EPS amounted to RMB3.1, and its net operating cash flow soared by 32% to RMB45.4 billion. Overall, it maintained the rapid growth in 2015.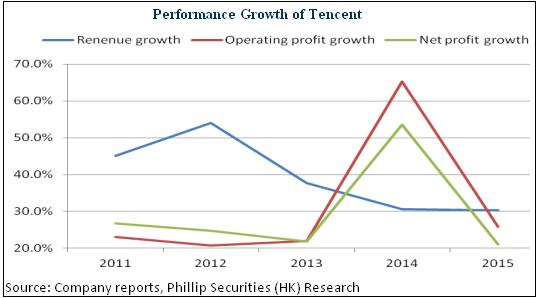 The revenue growth was mainly attributed to the increase in smart device MAU of QQ and MAU of WeChat, rising by 11% to 697 million and by 39% and to 642 million respectively over the same period last year. Such rise fueled the surge in online ads revenue by 110% to RMB17.5 billion, of which performance advertising and brand advertising jumped by 172% and 72% respectively. Additionally, the contribution proportion of the mobile platform to the revenues was up to 65%, and its proportion exceeded 85% in the fourth quarter. Meanwhile, thanks to the Company`s powerful concession operations of computer games and the huge mobile traffic, its online game business saw an increase of 26% and its social network revenues witnessed a growth of 30%, maintaining a steady growth.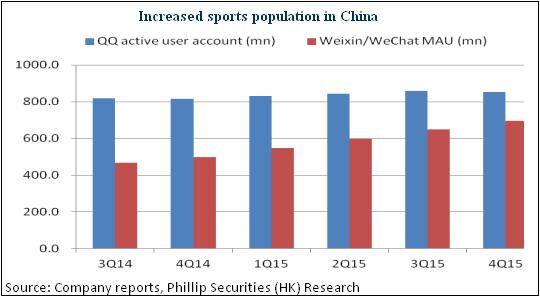 In respect of profitability, although the gross profit margin fell by 1.4 percentage points to 59.5% year on year, the main reason for the fall is that the gross profit margin included the commissions to third-party game and content providers. The relatively low net profit growth was primarily because the Company`s financial costs grew by 37% due to increased loans and because the income tax expense also shot up by 39%. Furthermore, provision for impairment of the Company`s listed associate corporations engaging in e-business led its share of losses from the associate corporations increase RMB2.45 billion as compared with the same period last year, which also produced a significant negative impact on the results. But this is a non-recurring factor.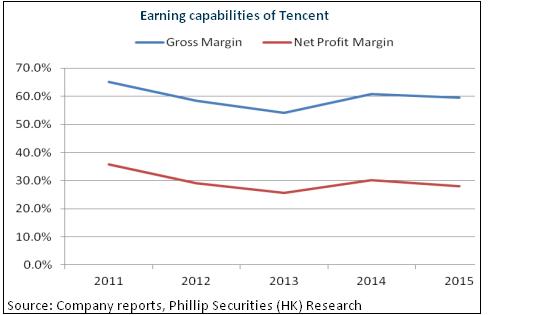 WeChat Supported Mobile Advertising Business Development
Large as the customer base of WeChat was, yet, as of September 2015, the penetration rate of WeChat was 69%, 43%, 27% and 28% in the second-tier to the fifth-tier cities respectively, far lower than the penetration rate of over 90% in the first-tier cities. Therefore, WeChat still has potential for development in the second-tier to the fifth-tier cities. Presently, WeChat has already found its way in all aspects of the users` life including socializing, reading, shopping and sports, so its dividends will continue to be released and thus the mobile advertising business is expected to become the engine of growth.
Additionally, by virtue of WeChat Payment and more diverse payment scenarios, the Company`s online payment business is booming, the users who have integrated bank cards with WeChat Payment has rapidly increased to 300 million, the vast majority of whom are active users. According to estimates, the monthly transfer transaction amount between users of WeChat has exceeded RMB100 billion, so the Company`s future prospects for Internet financial services are worth looking forward to.
Optimistic "Internet +" Strategic Outlook
Tencent actively promotes the "Internet +" strategy, with the vision of becoming China`s all-rounded service Internet provider featured by "Connect Everything." We believe the Company boasts immense amounts of users` data and traffic, gets a comprehensive understanding of consumer demand through big data resources, and by expanding products and services, invests in a wide range of vertical areas and enriches application scenarios, so its outlook for the "Internet +" ecosystem construction is optimistic.
Specifically, the Company`s game business will keep a leading position by its platform position and leading VR layout. Moreover, its online ads business will maintain rapid growth thanks to enhanced user participation by more video inputs and online payment. We grant the Company the target price of HK$182, equivalent to 36.5x EPS in 2016, with the "Accumulate" rating. (Closing price as at 21 Mar 2016)
Risk
The terminal game business declines more than expected;
Headway in mobile advertising service falls short of expectation.
Financials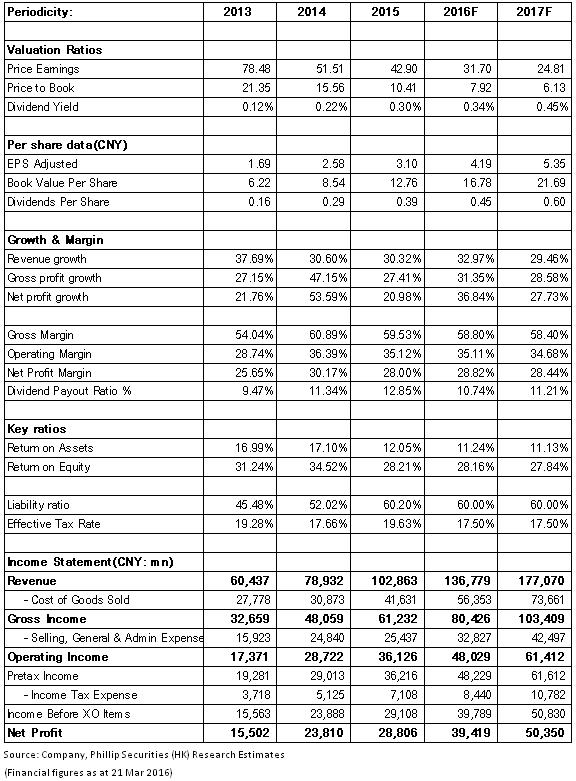 Back to Top