China Overseas Land & Inv (688.HK) - Land Reserve Quality Continues to Improve
Investment Summary
- Completed Citic Assets Acquisition, increasing the quality of the land reserve especially that Citic Assets contains substantial amount of land and projects in both Tier 1 and Tier 2 Cities, e.g.: Tier 1 Cities land reserve increased 120%
- Reduced exposures in Tier 3 cities by disposing about 9.52Mn square metres of land reserve in these cities, such as Yangzhou and Huizhou, to the associate company China Overseas Grand Oceans
- Significant decrease in total debt and net gearing ratio, which dropped from 37.3% in FY2015 to 7.5% in FY2016
Business Overview
Stable FY2016 result: In FY2016, China Overseas recorded a 3.2% drop in revenue from HK$169,562Mn to HK$164,069Mn. Property sales was strong throughout FY2016, with aggregate property contracted sales exceeding the target contracted sales of HK$200Bn. The aggregate contracted sales amounted to HK$210.6Bn, a rise of 16.6% in comparison with FY2015. Net profit however increased 8.4% from HK$35,414Mn to HK$38,391Mn, mainly caused by the disposal of the company's subsidiaries in May and October 2016, contributing HK$10,175.9Mn of one-off gain to the company. In FY2016, Earning per Share decreased HK$0.13 to HK$3.64. China Overseas declared a final dividend of HK$0.42, an increase of HK$0.01 in comparison with FY2015.
The quality of the land reserve continues to increase: In FY2016, China Overseas increased the size of its land reserve significantly from 41.4Mn square metres in FY2015 to 56.8Mn square metres in FY2016, an increase of 37.0%. In particular, the land reserve in Tier 1 cities more than doubled and increased from 4.6Mn square metres to 10.1Mn square metres, an increase of 120%. The significant growth in the land reserve can be attributed to China Overseas completing the Citic Asset Acquisition. Through this acquisition, China Overseas increased the GFA of its land reserve by 31.55Mn square metres and increased the quality of its land reserve, with a majority of the projects locating in Tier 1 Cities and Tier 2 Cities. In general, the newly acquired assets are mainly residential projects spanning across more than 20 cities in China.
Apart from the Citic Asset acquisition, China Overseas has been actively enhancing the land reserve by reducing the company's exposure in the Tier 3 Cities. The property development projects in these cities generally face weaker demand and lower profit margin than cities of higher tiers. In October 2016, China Overseas sold about 9.52Mn square metres of land reserve to its associate China Overseas Grand Oceans. The disposed land are located in cities such as:

Profitability is expected to be high relative to the industry: With the proportion of land contributed by lower tier cities decreasing, China Overseas's profitability is expected to remain at a high level in comparison with the rest of the industry. The Tier 3 Cities assets are held by its associate company China Overseas Grand Oceans and therefore the sales of the lower tier cities properties would not affect the gross profit margin of China Overseas. Moreover, the recent recovery of the Tier 3 Cities property market enables China Overseas to spin-off its Tier 3 Cities land reserve at a higher price and at the same time generate higher profit via its associate China Overseas Grand Oceans.
Financial position continues to be strong: The capital structure of the company remains healthy and in FY2016, the net gearing ratio of the company decreased significantly from 37.3% in FY2015 to 7.5% in FY2016. Cash on hand increased to HK$157.2Bn, contributing to about 27.5% of total assets, indicating a strong liquidity position. Both financial figures are at their strongest point across the four-year period, as shown by the following table:

Besides, the company does not have a large short term obligation to meet and the majority of the debt are due more than a year later. In particular, only 23.2% of the total debt, or HK$40,287Mn, are due within a year.

Investment Thesis, Valuation and Risk
Our valuation model suggests a target price of HK$25.10: China Overseas has achieved a stable result in FY2016 but in terms of contracted sales, it has produced a sizable growth. The Citic Asset Acquisition and the disposal of Tier 3 Cities land reserve to China Overseas Grand Oceans enable the company to increase the quality of its land reserve. We also expect an improvement in the profit margins of the business. Therefore, a target price of HK$25.10, corresponding to a P/E and P/B of 7.90x and 1.07x, has been assigned, with an `Accumulate rating assigned. (Closing price as at 20 Jun 2017)

Financials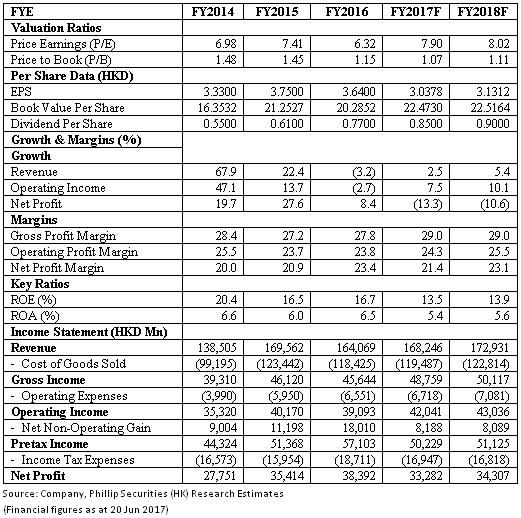 Back to Top