Kerry Properties (683.HK) - Sustainable Dividend Level Given Stable Recurring Income
Investment Summary
- The Bloomsway, with accumulated contracted sales of HK$6.8Bn as at July 2017, is set to be completed in 2H2017, occupation permit has been obtained in July 2017
- Martin Heights, which was recognised in 1H2017, has an unsold portion of 47% as at June 2017, providing sizable upward potential to revenue and profit
- Current level of dividend is sustainable because of the stable and recurring investment property income, whose growth is assured by the new projects in both Hong Kong and China
Business Overview
1H2017 result is in line our expectation: Kerry Properties achieved extremely strong result in 1H2017. Revenue rose 220% from HK$5,537Mn in 1H2016 to HK$17,742Mn in 1H2017. The massive increase is caused by the recognition of a Hong Kong project, Martin Height, whose occupation permit was obtained in March 2017 and therefore the associated revenue and cash flow were recognised in 1H2017. Despite the rapid growth in revenue, gross profit increased only 57% from HK$2,612Mn in 1H2016 to HK$4,102Mn in 1H2017, primarily caused by the change in the property mix in the recognition, causing a drop of gross profit margin from 47% in 1H2016 to 23% in 1H2017. In 1H2017, Hong Kong property development segment, whose gross profit margin was only 11.7% in 1H2017 (1H2017 China Property Development Segment GPM: 21.7%), contributes 57% of the total revenue but it only contributes 4% of the total revenue in 1H2016, thereby lowering the overall gross profit margin. Underlying profit attributable to shareholders increased 98% from HK$1,434Mn in 1H2016 to HK$2,833Mn in 1H2017, with an underlying earnings per share being HK$1.96. In 1H2017, the company declared an interim dividend of HK$0.45 per share, a 50% increase in comparison with that of 1H2016.
Property development project pipeline can still last for 4 years: Kerry Properties currently has a few property development projects in Hong Kong and China, with expected completion date up to FY2020. The expected GFA of properties primarily for sales and going to be completed in the next few years amount to 5.1Mn Sq. Ft.. In particular, this figure does not include completed projects, such as Martin Heights (GFA: 1,142,168 Sq. Ft., 53% sold as at 30/6/2017). We conservatively value the remaining unsold portion at about HK$10Bn and this will continue to provide upward potential to the revenue of the company in FY2017. Besides, the other project, The Bloomsway, is expected to be completed in 2H2017. As at 30/6/2017, about 83% of the units at The Bloomsway was sold and the GFA of the project is 939,600 Sq. Ft.. As at 31/7/2017, the accumulated contracted sales of The Bloomsway amounted to HK$6.8Bn and occupation permit has been obtained in July 2017, allowing the company to recognize the associated revenue and cash flow in 2H2017 and providing a boost to both the revenue and the profit. Major property development projects in both Hong Kong and China are as follow: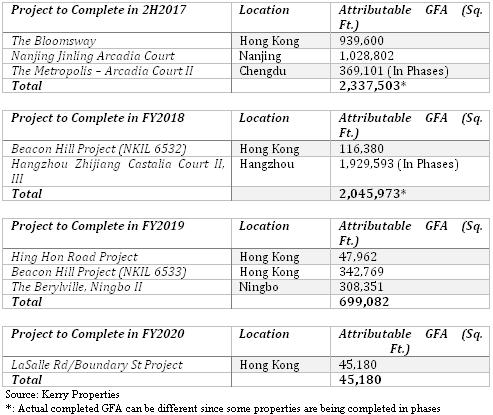 Dividend is sustainable even interim dividend was raised by 50%: The company raised the interim dividend to HK$0.45 per share in 1H2017. We believe the current level of dividend is sustainable because of the sustainable development pipeline and the stable but growing investment property portfolio. As at 30/6/2017, the attributable GFA of the investment property segment of Kerry Properties in Hong Kong and China are 2.86Mn Sq. Ft. (2016: 2.78Mn Sq. Ft.) and 7.39Mn Sq. Ft. (1H2016: 7.53Mn Sq. Ft.) respectively. Although the total GFA reduced slightly, we expect the GFA to expand because of the large projects being completed in the next few years.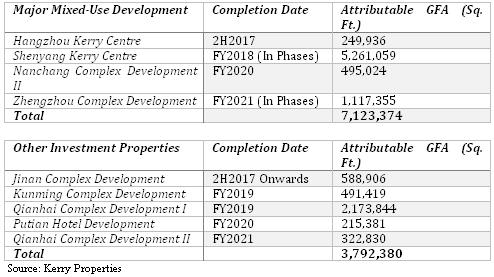 Investment Thesis, Valuation and Risk
Our valuation model suggests a target price of HK$36.70: We base our valuation on the Sum-of-Parts approach because of the equally significant impact brought by the investment property and property development segments. We maintain our `Buy` rating on the stock with a target price of HK$36.70, corresponding to a P/E and P/B of 9.99x and 0.59x respectively. (Closing price as at 4 Oct 2017)

Financials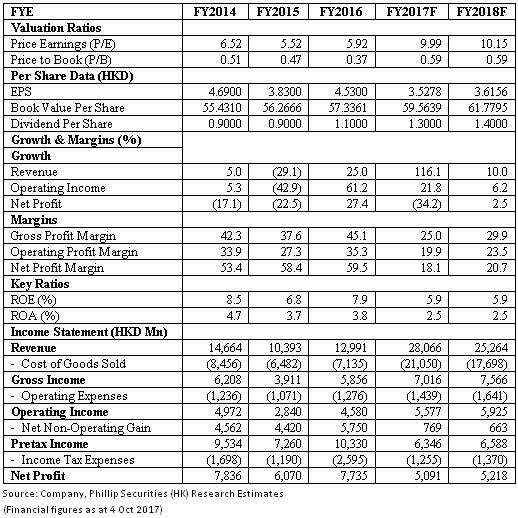 Back to Top