Shenzhen Investment (604.HK) - Broadly Completed The Exit From Lower Tier Cities
Investment Summary
- Significant rise in gross profit margin, primarily contributed by the recognition of the sales of properties in Shenzhen, whose gross profit margin can be as high as 66% (Overall GPM of Shenzhen: 50.7%)
- Taking advantage of the recovery of property market in Tier 3 and Tier 4 cities, the company further decreased its exposure in these cities and significantly decreased the proportion of these in cities in the land bank to 34%
Business Overview
The 1H2017 revenue declined but net profit surged: The revenue of Shenzhen Investment in 1H2017 declined 14.6% to HK$5,454Mn. The decline is primarily caused by the tight regulation in Shenzhen and the fact that several projects in Shenzhen will only be recognised in 2H2017 and FY2018, thereby affecting the revenue in 1H2017. Despite the drop in revenue, gross profit rose 1.9% to HK$2,197Mn in 1H2017 due to the rise in gross profit margin from 33.8% in 1H2016 to 40.3% in 1H2017. The large increase in gross profit margin is caused by the increase in the revenue contribution by Shenzhen, whose contribution was 69.4% in 1H2017 and gross profit margin was 50.7%. The profit attributable to the shareholders in 1H2017 rose 119.3%, primarily caused by the disposal gain of the projects in Tier 3 and Tier 4 cities, which amounted to HK$3,325Mn (Before attribution to shareholders and minority interest). Despite the increase in earnings, the dividend per share remained at HK$0.07 per share.
Further optimised the land bank: Shenzhen Investment continued to enhance the quality of its land bank by disposing land in Tier 3 and Tier 4 cities. In 1H2017, the company disposed 5 projects located in Sanshui, Taizhou, and Jiangyan through public listing for sales, allowing the company to achieve an after tax gain of HK$3.33Bn. Coupled with the disposal of land in Heyuan in FY2017, the disposal of these projects signals the broad completion of the company's exit in the Tier 3 and Tier 4 cities, with the contribution to the land bank by these cities dropping from 49% in FY2016 to 34% in 1H2017, significantly enhancing the quality of the land bank. The company also expanded its land bank and obtained a residential land in Tuen Mun, Hong Kong (GFA: 43,938 square metres, 50% Interest) with Road King Infrastructure.

Contracted sales in first 9 months was weak in comparison with peers: Shenzhen Investment's accumulated contracted sales in the first 9 months of FY2017 amounted to CNY10.24Bn, representing a YoY drop of 43%. The accumulated contracted sales area in the same period was 480,079 square metres, representing a YoY drop of 37%. Recognised revenue in 1H2017 dropped 14.6% to HK$5,454Mn. The drop in revenue is primarily contributed by the tightened regulations in China especially those in Shenzhen. According to the 1H2017 report, 76% of the contracted sales in the first half of FY2017 were contributed by Shenzhen. Since Shenzhen projects usually have high profit margins, we expect the reduction in the contracted sales could be partially offset by the improvement in the overall profit margins.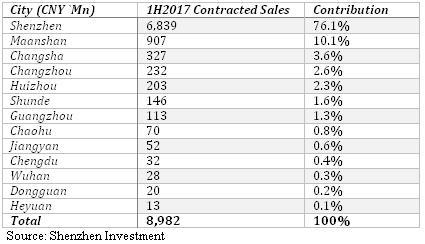 Over the next two years, the company has some large properties to release, mostly in FY2019 and with some projects located in prime locations in Shenzhen. We believe these projects will receive good demand despite the tightened regulations in Shenzhen. Examples of these projects include:

Investment Thesis, Valuation and Risk
Our valuation model suggests a target price of HK$4.05: Despite the drop in recognised revenue and contracted sales, we maintain our optimistic view to Shenzhen Investment because of its valuable land resources, i.e. those in Shenzhen, and the recent revaluation of China property stocks. We also believe the Shenzhen projects can raise the profit margin, which the improvement in profit margin can offset some of the negative effect on revenue brought by the tightened regulations. Therefore, we have adjusted Shenzhen Investment's target price to HK$4.05, corresponding to a P/E and P/B of 9.56x and 0.86x, with an `Accumulate rating assigned. (Closing price as at 13 Oct 2017)

Financials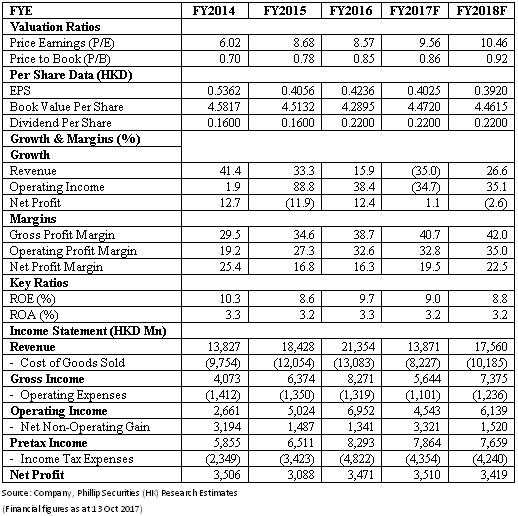 Back to Top