Logan Property (3380.HK) - Historical High Margins & First Ever Interim Dividend
Investment Summary
- Historical high gross profit margin and core profit margin were achieved due to the recognition of the highly profitable Shenzhen projects
- Sales target was revised upwards from CNY34.5Bn to CNY37.0Bn, with a sales target of CNY80Bn in FY2020
- Declared the first ever interim dividend, along with a special dividend, totaling HK$0.22 per share
Business Overview
The 1H2017 result stands out from the crowd: Logan Property achieved very strong result in 1H2017. Contracted sales increased 34.2% to CNY19.31Bn, completing 56% of the annual sales target. Because of the strong sales, Logan Property raised the sales target from CNY34.5Bn to CNY37.0Bn. Revenue soared 94.6% to CNY12.38Bn. Gross profit margin reached the historical high level of 39.5% and gross profit rose 153.2% to CNY4.89Bn. Core profit margin also reached the historical high level of 20.6% and core profit rose 195.4% to CNY2.55Bn. Profit attributable to shareholders increased 166.1% to CNY3.40Bn. Earnings per share increased 164.7% to HK$0.7125. Thanks to the good result, Logan Property declared the first ever interim dividend of HK$0.19 per share and a special dividend of HK$0.03 per share.
Strategic positioning in the Greater Bay is the key to outperformance: In 1H2017, the company achieved historical high profit margins. The reason for the recorded high profit margins is the company recognised the high margin Shenzhen projects on its financial statements. In particular, about 30.7% of the recognised GFA and 41.6% of the recognised sales were contributed by Shenzhen. In the previous two interim periods, the contribution by the Shenzhen region was not as high as in 1H2017, leading to a lower profit margin in comparison with that of 1H2017.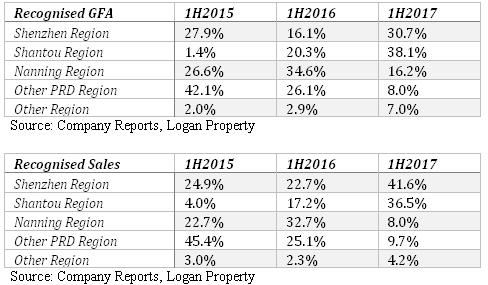 As at 30/6/2017, the company had a large unrecognized contracted sales of CNY23.03Bn, with over half of the sales contributed by Shenzhen and other Pearl River Delta Regions. In particular, the gross profit margin of Shenzhen Region is expected to be as high as 40%. Therefore, we expect Logan Property¡¦s overall gross profit margin to be above 30% in this year and the next few years.

Majority of the land in the land bank is in the Greater Bay: Throughout the reporting period, the company had 27 additional new projects, with 6 obtained via tendering and 21 obtained via acquisition and urban renewal. As at 30/6/2017, Logan Property has a land bank with a GFA of 27.89 million square metres. In terms of value, the land bank of the company worth CNY388Bn, of which CNY314.5Bn or about 81% of the value of the land is contributed by the Greater Bay region. The land in the Greater Bay, especially those in Shenzhen, is expected to have better profit margins due to the national development policy and therefore will allow the company to maintain its gross profit margin at a >30% level in the foreseeable future.

Investment Thesis, Valuation & Risk
Our valuation model suggests a target price of HK$8.80: Logan Property¡¦s earning surprise in 1H2017 signals the start of the high growth period. The company¡¦s strategic positioning in the Greater Bay will allow the company to maintain its profit margin at a high level, in comparison with its peers, in the future. We are optimistic to the future property development projects because of the alignment with the national development policy as well as the excellent location chosen for its property development projects. Therefore, we raise Logan Property¡¦s target price to HK$8.80, corresponding to a P/E and P/B of 5.31x and 1.60x, with a ¡¥Buy rating assigned. (Closing price at 17 Aug 2017)

Financials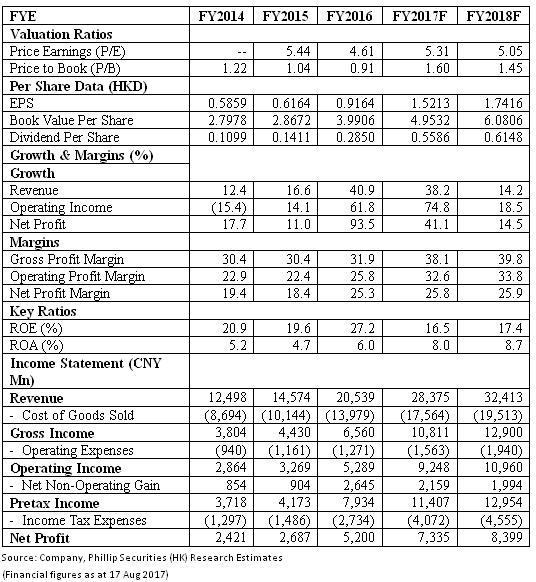 Back to Top