BoCom (3328.HK) - Operating performance met expectation
Summary
-According to the 3Q2015 results released by Bank of Communication (¡§BoCom¡¨ or the ¡§Group¡¨ in the following text) last Friday, as at the end of Sep 2015, the Group's net profit attributable to shareholders approximately amounted to RMB52.040 billion, up 1.01% yoy, in line with our previous expectation, equivalent to the EPS of RMB0.70. However, the growth rate of net profit is far slower than 3Q2014, which is mainly due to the significant increase of the Group's impairment of asset, increased by 19.4% yoy to RMB19.704 billion. On the other hand, BoCom's income from intermediate business still kept stable growth, and the net administration fee and commission incomes in the period under review increased approximately by 19.3% yoy to RMB27.428 billion;
-The asset quality of BoCom appeared to become worse in 3Q2015 continually. As at the end of Sep 2015, BoCom's NPL ratio climbed up from 1.25% in end of 2014 to 1.42%, with doubtful loan and loss loan particularly surged. The provision coverage ratio dropped from 178.88% in end of 2014, to 165.33%, down 13.55ppts. We believe the asset quality of BoCom will keep deteriorating, while the amount and ratio of NPLs will keep growing, and the NPL ratio would go up to 1.50% in 2015, the trend meets our expectation;
-The level of capital adequacy ratio of BoCom maintained stable, although it was still lower than the end of 2014, it increased compared with that of 2Q. As at the end of Sep 2015, the core tier-one CAR and CAR dropped 0.33 ppts and 0.74 ppts respectively compared to end of 2014,reaching 10.97% and 13.30%;
-In all, BoCom has steady development on its business, with profit growth slowing down, met our expectation. Considering the development of the market environment in 4Q, we expect its net profit growth in 2015 would be around 1%. In addition, BoCom's dividend payout ratio still stays at the level of 30%, based on 3-stage dividend discount model, to reflect the upcoming market risk, and we maintain the Group's 12-month target price to HK$7.00, which is around 24% higher than the latest closing price, equivalent to 6.3xEPS and 0.8xBVPS in 2016E respectively. The valuation is still attractive, and we maintain ¡§Buy¡¨ rating. (Closing price as at 2 Nov 2015)
Profit growth will slow down in 2015
As at the end of 3Q2015, the Group's net profit attributable to shareholders approximately amounted to RMB52.040 billion, up 1.01% yoy, in line with our previous expectation, equivalent to the EPS of RMB0.70. However, the growth rate of net profit is far slower than 3Q2014, which is mainly due to the significant increase of the Group's impairment of asset, increased by 19.4% yoy to RMB19.704 billion.
On the other hand, BoCom's income from intermediate business still kept stable growth and the net administration fee and commission incomes in the period under review increased approximately by 19.3% yoy to RMB27.428 billion. Among these, incomes from investment banking business and management fees and commission surged 26.97% and 47.28% respectively, reaching RMB5.847 billion and RMB7.526 billion respectively. Income from bank card fees also recorded an increase of 5.12% yoy to RMB8.321 billion.
Although the market has undergone severe volatility since mid-June 2015, we expect the market situation would be better in 4Q2015, Therefore, BoCom's income from interest margin and intermediate business would keep stable growth throughout the whole year. However, the increase of operating expenses, in particular the surge of impairment of asset, caused a consistent decline in the Group's net profit growth rate, which kept at around 1%, approximately amounted to RMB67 billion.
It is worth to note that, as our previous estimation, with respect to the continued growth of NPL, we expect BoCom's impairment provision would still significantly increase if the Group's profit growth rate still maintain at a low level. Therefore, there is the risk for the Group's profit growth rate changing from positive to negative in 2015Q4 or the next year.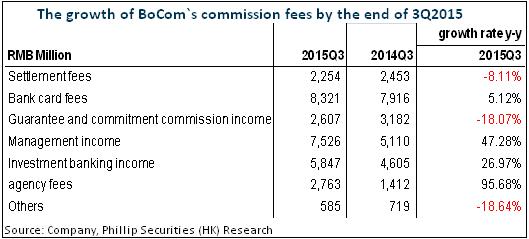 Asset quality keeps deteriorating
The asset of BoCom keeps stable growth. The Group's total asset recorded as at end of Sep 2015 increased nearly 14.97% compared to end of 2014, to RMB7.21 trillion; while net asset growth reached around 10.76%, to RMB519.011 billion, representing BVPS amounted to RMB6.79.
The asset quality of BoCom appeared to become worse in 3Q2015 continually. As at the end of Sep 2015, the Group's NPL ratio climbed up from 1.25% in end of 2014 to 1.42%, with doubtful loan and loss loan particularly surged. The provision coverage ratio dropped from 178.88% in end of 2014, to 165.33%, down 13.55ppts. We believe the asset quality of BoCom will keep deteriorating, while the amount and ratio of NPLs will keep growing, and the NPL ratio would go up to 1.50% in 2015, there is higher risk for BoCom to face the deterioration of asset quality in the future.
We believe the ratio and amount of NPLs of BoCom would keep growing in the near future, and the NPL ratio would go up to 1.47% in 2015, such trend meets our expectation.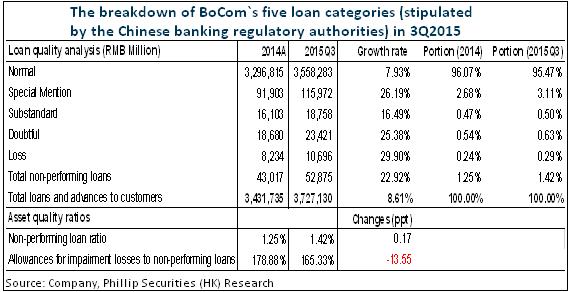 Risk
Lower-than-expected growth rate of income;
Worse-than-expected asset quality due to consistent growth of the amount of NPLs;
Increase in capital pressure continually;
Large short-term decline in stock price due to market volatility.
FINANCIALS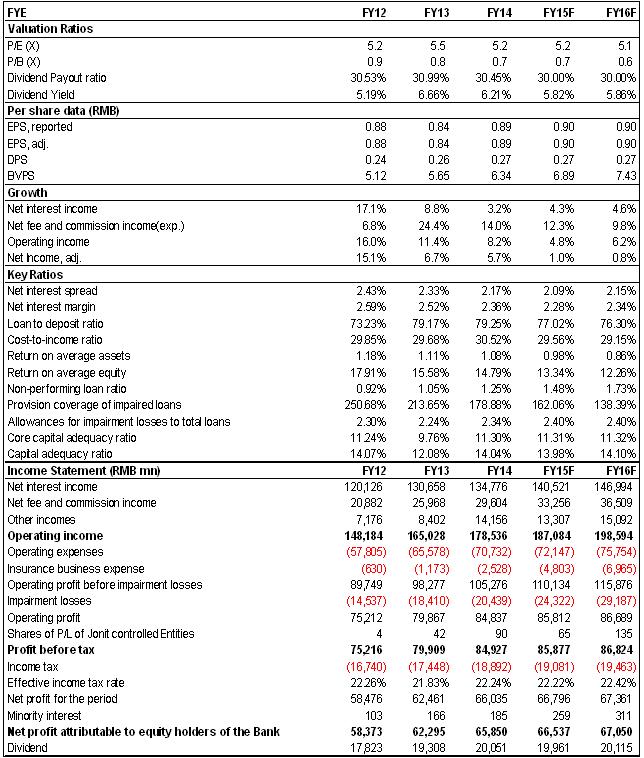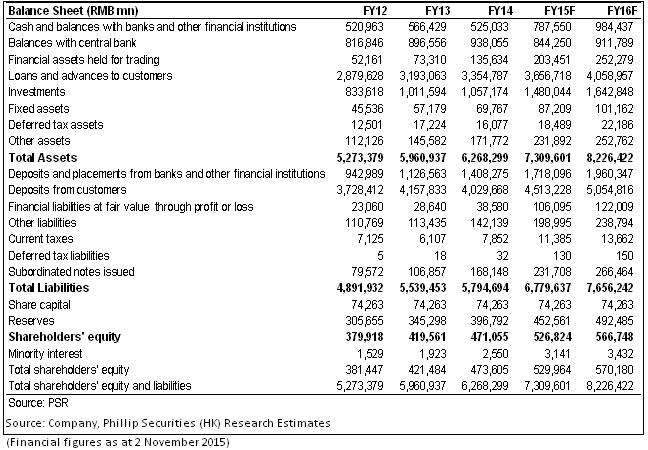 Back to Top