Galaxy Entertainment (27.HK) - Q3 results slightly better than expected
Q3 results slightly better than expected
Galaxy Entertainment recorded revenue of HKD12.3 billion, down 29% yoy, but up 5% QoQ. The Company's adjusted EBITDA amounted to HKD2.1 billion, down 36% yoy, but up 13% QoQ, including played unlucky which reduced EBITDA by approximately HKD130 million.
In Q3, the occupancy rate of the Company's hotels maintained as high as 99%. Two main brands of the Company had diversified performance. Galaxy Macau performed better in the period under review: recorded revenue of HKD8.7 billion, down 22% yoy, but up 9% QoQ; adjusted EBITDA amounted to HKD1.7 billion, down 30% yoy, but up 19% QoQ. It is worth to point out that Galaxy Macau recorded non-gaming revenue of HKD742 million, up 92% yoy and up 60% QoQ.
Star World Hotel recorded revenue of HKD2.9 billion, down 48% yoy and down 7% QoQ; adjusted EBITDA amounted to HKD514 million, down 43% yoy, but up 1% QoQ.
Overall, Galaxy Entertainment had good performance in Q3 and growth was recorded compared to Q2. The rate of decline of income and profit for the whole year narrowed and it reflected that the consistent downturn of VIP venue business was partially compensated by the growth of mass venue business. Moreover, demand for vocations and the launch of new projects also made Galaxy Entertainment more attractive to investors.
New change on operation performance
Fast growth of non-VIP gaming (mass gaming, slots and non-gaming), reduction on cost and launch of new projects were the positive changes on the Company's operation performance. Even though the gaming business of Macau has not yet moved away from depression, the above changes enhanced the Company's sustainable growth and gain on market share.
The market focus of Galaxy Entertainment is turning non-VIP gaming: the contribution of income from mass gaming, slots and non-gaming increased from one-third in 2014Q3 to the current approximately 50%; and such income contributed to the main part of EBITDA. Income from mass gaming, slots and non-gaming is expected to increase in amount as well as in weighting of EBITDA.
The development of Galaxy Macau Phase 2 and Broadway Macau in 2015Q2 provided the Company with new growth momentum. Broadway Macau recorded revenue of HKD189 million in Q3, and adjusted EBITDA of HKD-1 million (loss). A breakeven was basically recorded in the first financial quarter under operation. Moreover, effort made on cost reduction enabled a saving of more than HKD100 million in 2015Q3, and is expected to save HKD800 million in the upcoming 18 months.
Balance sheet kept solid
As at the end of September 2015, Galaxy Entertainment owns cash amounted to HKD6 billion, with net cash of HKD4.8 billion. Significant decrease of total debt was caused by the clearing of debts related to treasury management. Major items of capital expenditure in the coming 1 year include the site investigation works of Cotai Phases 3 & 4; and also the strategic investment of overseas markets. However, the amount of expenditure is expected to be limited.
Risk
The regulatory policies on the gaming business of Macau by the Central Chinese Government;
Weaken demand for VIP gaming;
Stronger competitors in Macau and nearby areas;
Labour cost and inflation in Macau.
Valuation
Q3 business data of Galaxy Entertainment is slightly better than expected, reflecting the positive changes of the fundamentals of the Company and also the steady recovery of demand. The Macau government has released some positive signals regarding gradual relaxation of regulations on gaming business in Macau and stimulation to tourism of Macau. We think these signals would generate positive boosting effects on the gaming business of Macau and particularly on Galaxy Entertainment. We give a rating of 癒禮Buy癒穡, with the 12-month target price of HKD35, which is equivalent to 15.6x of 2016e EV/EBITDA and 22x of 2016e P/E. (Closing price as at 27 Oct 2015)
Financial Sheet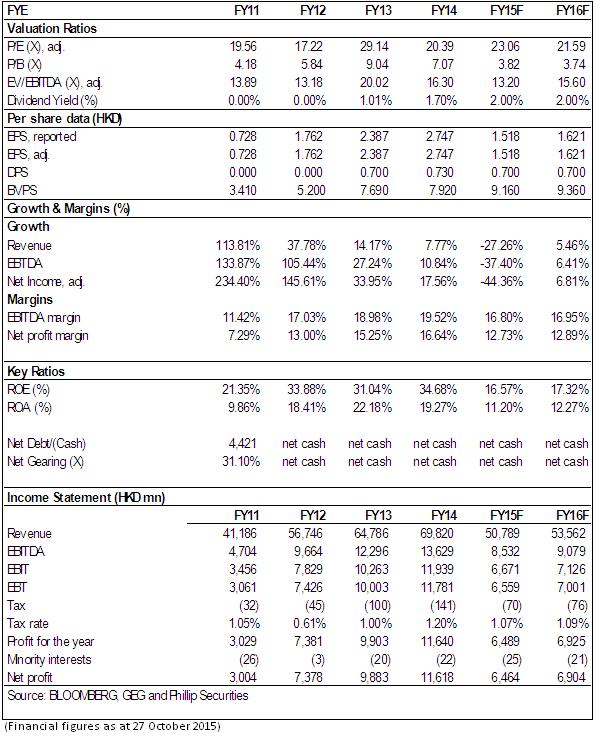 Back to Top