CHINA EB INT`L (257.HK) - The Construction Income Drives Fast Growth of Result
Summary of Investment
-All through the year, the result showed a growth of 26%, with attractive valuation;
-Strong capital strength and rich reserve for projects;
Investment Rating
The Company had excellent result and stable operation. The strong business expansion ability and abundant reserve for projects will contribute to the continual growth of its result in the next three years. It is forecast that the net profits of the Company in 2018 and 2019 will reach HKD4346 million and HKD5251 million, respectively; earnings per share (EPS) will be HKD0.97 and HKD1.17, respectively; the target price will be HKD14.0, with a Accumulate rating. (Closing price as at 15 March 2018)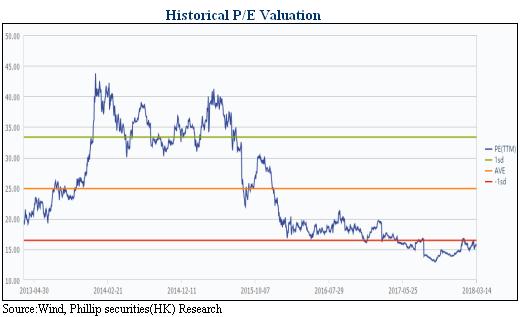 All through the year, the result showed a growth of 26%
According to the 2017 result report, Everbright International recorded a revenue of HKD20.043 billion, up by 43% yoy; EBITDA was HKD6.863 billion, up by 36% yoy; and the profit attributable to shareholders was HKD3.51 billion, up by 26% yoy; its EPS was HKD0.78 (+26%) and a final dividend of 12 HK cents was distributed. All the year round, 24 HK cents dividend was distributed, with a dividend payout of 30.8%. The result growth conforms to the market expectation.
Specifically, the construction revenue was HKD13.242 billion, increased by 47% yoy; the operation revenue was HKD3.975 billion, increased by 45% yoy; the financial revenue was HKD2.014 billion, increased by 27.2% yoy; their percentages of contribution in the revenue were 69%/21%/10%, respectively. In this period, the disposed amount of household garbage increased 31% yoy to 11.74 million tons and the provision of on-grid electricity increased 39% yoy to 3.432 billion KWH. The increase of total handling capability drives the increase of the Company's operating revenue.
During 2012-2017, the percentage of construction revenue grew year by year, from 47% to about 70%, while the percentage of operation revenue dropped year by year from 36% to 21%. The revenue structure with most part being construction revenue should be improved.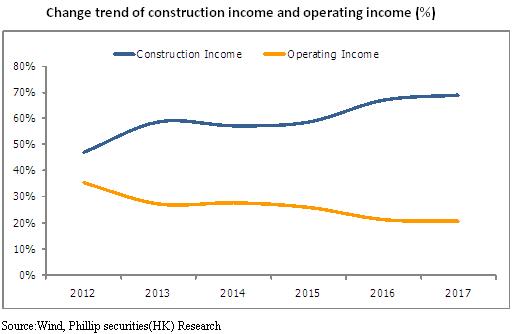 Gross margin and net profit margin declined a little
The gross margin decreased by 2.4pct yoy to 35.6%, which was mainly affected by growing percentage of the low-gross-margin construction business. The administration expense ratio was 7.15%, decreased by 0.39pct yoy. The financial expense ratio was 4.66%, up by 0.11pct yoy. The net profit margin was 20.14%, decreased by 1.48pct yoy. Decrease of gross margin and net profit margin results in that the growth of net profit is less than that of revenue.
By expanding financing channels, its capital strength gets stronger. At the end of the period, cash held by the Company increased by HKD3.8 billion to HKD10.838 billion. The amount of outstanding financing was HKD14.289 billion. While the Company constantly expands projects, its financial leverage and asset-liability ratio shows a growing trend in recent years. During this period, the asset-liability ratio increased by 1pct yoy to 61%. The total liabilities were still under control.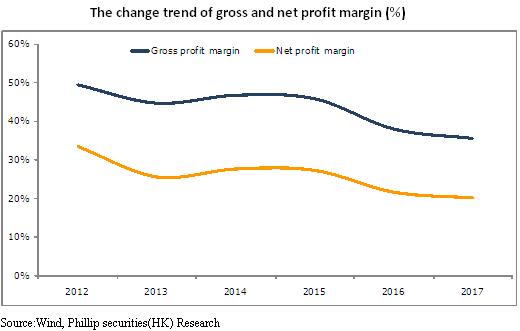 The scale of projects reached a record high
In this year, the Company obtained 54 new projects and 3 supplementary agreements, including 20 environmental energy projects, 14 environmental water service projects, 19 green environmental protection projects and 1 expansion project, with a total investment volume of RMB19.7 billion. Both the total number of projects and investment volume reached a record high. The Company actively innovated its business modes and promoted multiple development approaches like dismantling the old and constructing new ones, double entrust. The Mayong Garbage Power Generation Project in Dongguan, Guangdong, is the Company's first project run in double-entrust mode. Construction of the projects moves smoothly. Within the year, 45 projects were accomplished, among which, 37 were put into production. In addition, 40 new projects have been started. The Company still has 85 projects under construction or preparation. The reserve of projects is rich. The Company also had new breakthroughs in market expansion. It successfully got the Guping Power Generation Project in Shaanxi, and entered the solid waste treatment market in Shaanxi and Liaoning.
The Company has 3 business sectors, among which, the sector of environmental energy has 75 garbage power generation projects, with 43 ones having been put into production and 32 ones under construction or preparation. The annual handling capacity is 24.11 million tons. The Company holds 74.85% of Everbright Water's equity. Everbright Water has 76 domestic sewage treatment projects and the annual handling capacity is 1.55 billion square meters. It contributes a profit of RMB397 million, with a yoy growth of 46%. The Company holds 69.7% of Everbright Greentech's equity. Everbright Greentech has 44 biomass comprehensive utilization projects and 29 hazardous waste treatment projects. The annual handling volume of raw biomass materials is 84.49 million tons while that of household garbage is 2.28 million tons and that of hazardous waste is 674,000 tons. It contributes a profit of RMB786 million, with a yoy growth of 19%. The stable operation of the three business sectors will contribute to continual growth of the Company's result in the future.
Risk Warnings
The competition in this industry becomes fiercer;
Progress of project construction is not as expected; the downward risk of gross margin;
Catalysts
The percentage increase of the operation revenue drives growth of profitability;
The project expansion and construction progress are beyond expectation;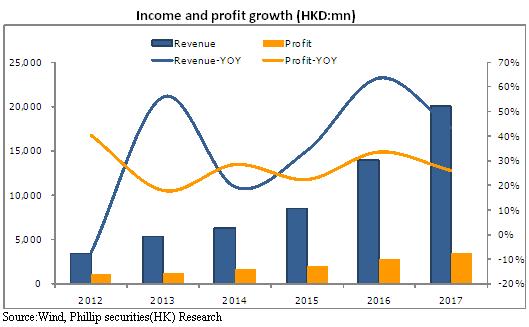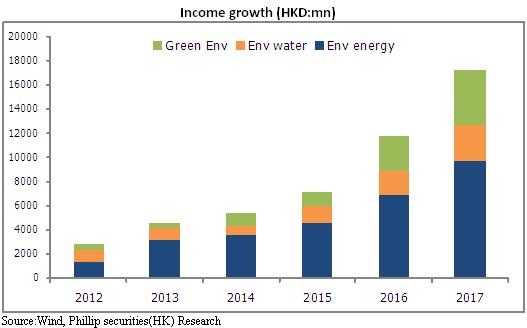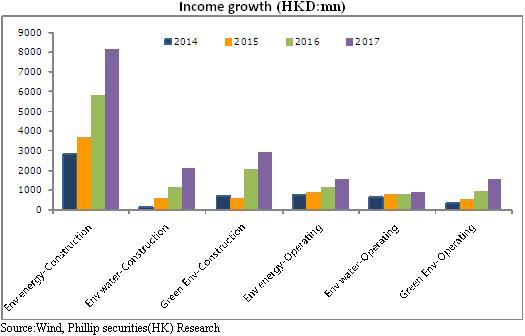 Financials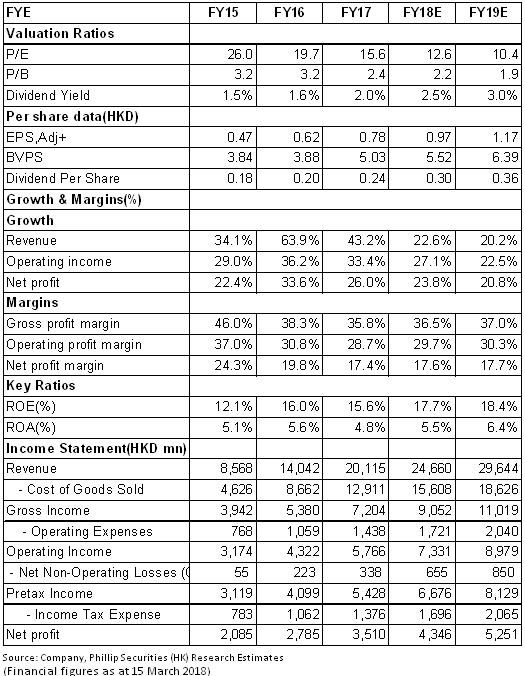 Back to Top