Bank of China Hong Kong (2388.HK) - Lack of growth highlights
FY 2012 Summary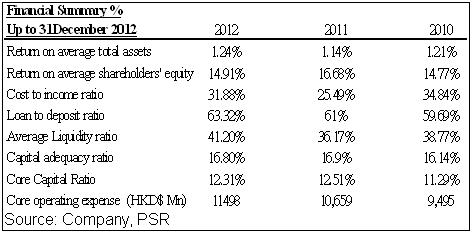 Growth in core business
BOC HK's FY 12 performance was in line with our expectation:
Net interest income achieved to HK $ 24.708 billion (HKD as below), up 12.4 % yoy or 27.29 billion HKD, NIM improved to 1.6%
Net fees and commissions, rose 0.9 % yoy to 7.906 billion HKD,
Net trading income increased by 83% yoy to 3.129 billion HKD, mainly due to net trading income of the foreign exchange trading and related products, driven by an increase of 558 million HKD, or 39% yoy. The interest rate instruments and items under fair hedge rose by 74 times yoy to 900 millions. Accounted for the vast growth of the trading business.
Profit before tax reached 25.521 billion, an increase of 3.41% yoy.
Due to the Lehman Brothers mini-bonds related expense, total operating expenses increased by 45% yoy to 11.402 billion, core operating expenses rose 7.9%, or 839 million.
In FY 12 basic earnings per share was HK $ 1.9796, up 2.46 % yoy, dividend increased 4.2% yoy to $ 1.238, to maintain a 62.5% payout ratio as past. However, the FY 12 result of BOCHK was not impressive, thus, we downgrade the investment rating to "Neutral" and rise target price to HK$27.05.
Based on the development of RMB business and the Group's long-term advantages, coupled with stable dividend payout policy, investors can buy for long-term holding at lower price
Net Interest Income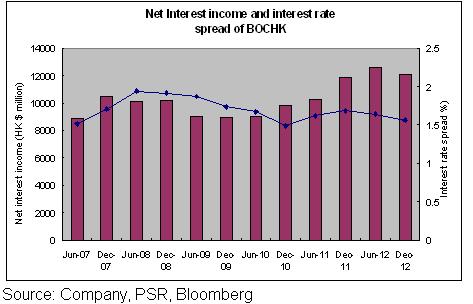 Due to the dilutive effect of RMB business reduced, NIM rallied by 28bp in 2013
However the deposit market is increasingly competitive, the Group's loan to deposit ratio increased to 63.32%. Net interest income is still up to $ 24.708 billion, up 12.4 % yoy or 2.729 billion.癒CWe expect a strong demand in offshore RMB lending, which let a keen competition in attracting deposit, negative effect to NIM.
Fee and commission income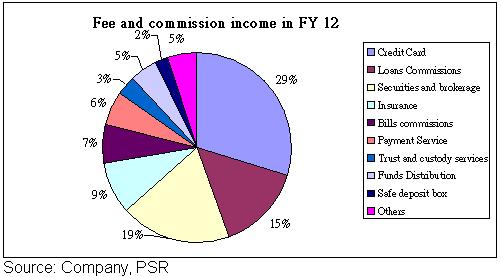 Group's net fee and commission income also recorded a slight growth, up 0.9 % yoy to 7.906 billion, the growth momentum mainly driven by credit cards, insurance business, up 14.5% yoy. Securities brokerage income fell 24% yoy, due to the volatility market conditions in 2012. We expected the debt crisis in Europe will be released, market sentiments improved, and the market turnover rose, securities brokerage income is expected to rebound in 2013.
Major Risk
European sovereign debt crisis continues to worsen, affect global economy
Group's growth rate is slower than we expected
Chinese economic hard landing
Valuation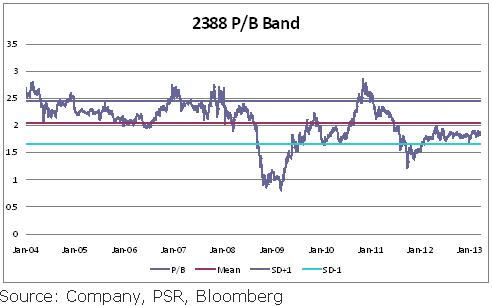 BOC Hong Kong's nine-year average P/B is about 2 times, while the current price P/B is about 1.8 times. With Europe's debt crisis slightly eased, and the opportunities of Rmb internationalization, the Group's P/B is expected to back to 2 times which is near our target price $27.05.
Dividend Policy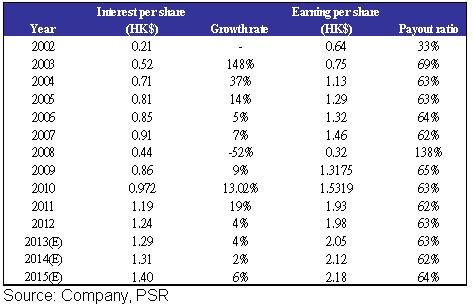 DDM Model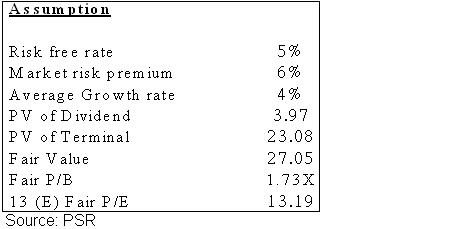 Due to the trend of Rmb internationalization o, we expect that the Group will grow steadily, dividend per share will be HKD $ 1.29 in 2013. Assume the growth rate will be 4%, we use dividend discount model calculated the fair value per share is HK $ 27.05. The corresponding estimated P/B is about 1.73 times and P/E is 13.19 times.
Peers Comparison

Financial Status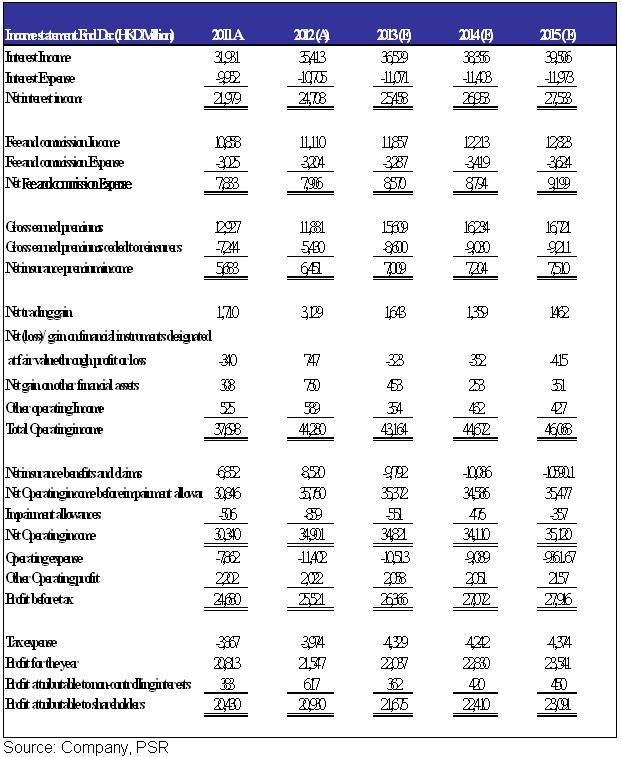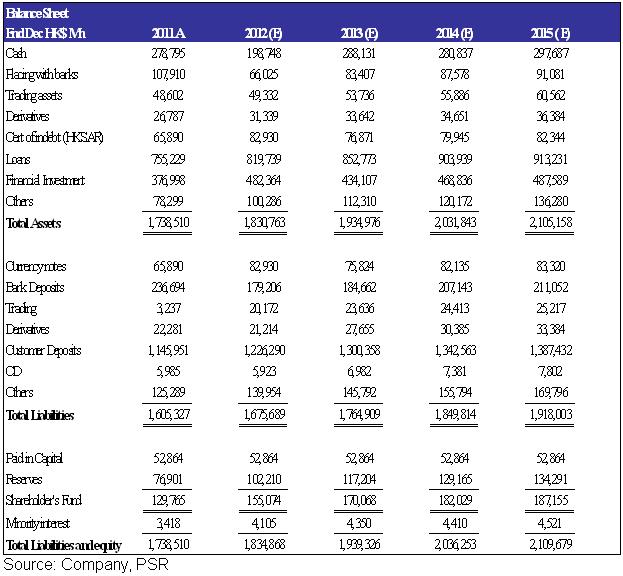 Back to Top