Haichang Ocean Park (2255.HK) - Rising profitability of new projects
Investment Summary
Stable Revenue Growth in Theme Park Segment with Continuous Improvement of Revenue Structure
Haichang Ocean Park, China's leading theme park developer and operator, is operating ten projects in Dalian, Qingdao, Tianjin, Yantai, Wuhan, Chengdu, Chongqing, Shanghai and Sanya. The operating projects include seven ocean theme parks, one adventure-themed amusement park, one immersive ocean-themed entertainment complex and one water-themed park. In addition, a new project is under construction in Zhengzhou.
The Company's operation segment maintained a stable growth in 2018, as revenue generated from ten theme parks reached RMB1.62 billion, grew by 7.9% year-on-year; specifically, ticket revenue was RMB1.27 billion (+7.8%yoy) while non-ticket revenue, the proportion of which increased to 29%, reached RMB470 million (+8.5%yoy). Revenue generated from the Company's property segment decreased by 30% to RMB44.4 million. The Company's other income and gains increased from RMB160 million in 2017 to RMB440 million, mainly due to the increase in government grants.
FY2018 Result Suffered from High Opening Expenses of New Projects in Shanghai/Sanya
Haichang Ocean Park reported revenue of RMB1.79 billion in 2018, increased by 6.5% compared to that of 2017. Net profit attributable to owners of the parent company decreased to RMB39.56 million, down 86% yoy compared to RMB280 million in 2017, mainly attributable to the one-off preliminary expenses incurred from the opening of the Shanghai Project and the commencement of trial operation of the Sanya Project.
Shanghai Haichang Ocean Park opened on November 16, 2018, and the Sanya Project commenced its trial operation on December 28, 2018. During the period, selling costs, selling and marketing expenses and administrative expenses reported an substantial yoy increase of 19% (or RMB140 million), 54% (or RMB80 million) and 63% (or RMB230 million) respectively, lowering overall gross profit margin by 5.3 ppts to 48.8%, increasing selling expenses by 3.7 ppts to 12.2% and administrative expenses by 11.7 ppts to 33.5%. Finance costs increased year-on-year by 83% or RMB120 million to RMB270 million in 2018, mainly resulting from financing these two new major projects.
In addition, the Shanghai Project recorded only over 300,000 tourists for the year as it did not officially open during the Golden Week of the National Day. Moreover, due to promotion and tourist attraction strategies like free tickets in the early stage of opening and other reasons, its revenue only recorded over RMB60 million and the price per customer was more than RMB200, generating a limited contribution to overall revenue.
Revenue-doubling Plan for 2019 because of New Projects
During the Spring Festival, peak season, Shanghai Haichang Ocean Park received 150,000 tourists, with price per customer reaching RMB344/person (RMB240 for ticket and RMB104 for non-ticket). For Q2, Shanghai Haichang Ocean Park will start its night operation. The construction of its Whale Shark Rafting Area will soon be completed and this area will be ready to open. After ticket price offer for sale promotion expires, the price will regain to a normal range, RMB299-360/person. It is expected that the Shanghai Project will receive over 4.5 million tourists in 2019, contributing revenue of more than RMB1.3 billion and a gross profit margin of over 46%.
SanyaHaichang Fantasy Town is an open project where a new mode of no ticket expenses but separate charges for venues is trialed. This attracts tourist groups and facilitates multiple experiences of individual tourists. During the Spring Festival, SanyaHaichang Fantasy Town received approximately 200,000 tourists, achieving a tourism market penetration rate of 20% in Sanya. It is expected that its overall revenue in 2019 will be around RMB200-250 million and thus reporting break-even. From 2020, as expenditures of all costs and expenses become stable in the future, it is expected that Shanghai Project and Sanya Project will accelerate to unleash the profitability. Zhengzhou Project is currently under construction and will officially open in 2020.
Future Transformation to Light-asset Mode for Partially Relief of Financial Pressure
Though adhering to a development strategy of equal focus on light asset and heavy asset, the Company has been faced with sudden finance pressure as a result of investing three new major projects in the past few years. As at the end of 2018, the net gearing ratio increased to 135%. In the future, in addition to attaching great importance to developing existing projects, the Company also plans to actively develop its light asset business. For example, the Company will focus on the deployment of Midoo Park Project to quickly expand this business nationwide. In 2018 the Company newly signed 11 contracts. By now the Company has commenced 18 projects in 13 PRC cities and has entered into 45 contracts in total, with an aggregate contracted amount of approximately RMB400 million. It is planned that the profit contribution rate of light asset business will increase from 10% in 2017 to 30% in 2020.
With respect to existing projects, the Company aims to introduce new products and enrich tourist experience. In particular, a new ancient aquarium is added in Tianjin Project and a new Marine Mozoo World in Wuhan Project; Chongqing Anping Camping Hotel grandly opened; the Chongqing Hot Spring product was put into operation so as to maintain stable growth. We believe that stable contribution from existing projects in cash flow, rising profitability of new projects and influence of light asset projects will gradually relieve the Company's finance pressure.

Investment Thesis
China's theme park industry has huge growth prospects and high barriers to entry. The company's business belongs to the industry's first echelon, and it is expected to continue to benefit from the prosperity of domestic tourism consumption in the future.
We expect the company's net profit for 2019/2020 to reach 356/537 million yuan and the target price of HK$2.05, corresponding to 2019/2020 20/13.4x P/E, Buy rating. (Closing price as at 6 June 2019)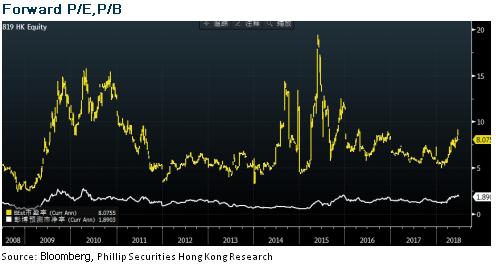 Financials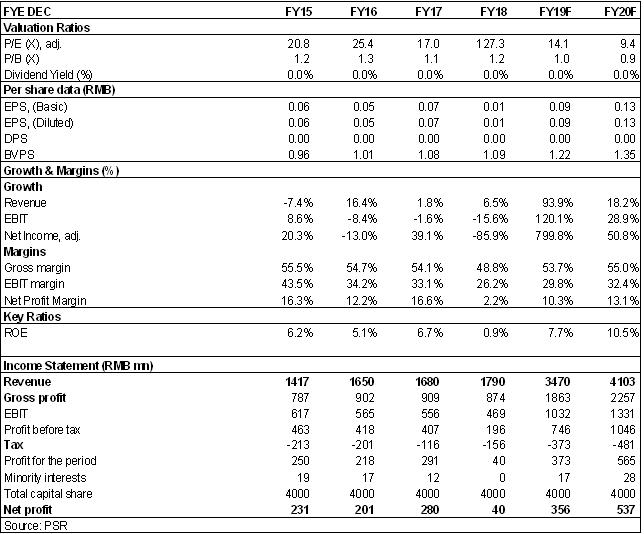 Back to Top