Anta Sports (2020.HK) - FY18 Results Beyond Market Expectations; Conservatively Optimistic Guidance for FY19
Investment Summary
Anta reported 2018 operating results beating market expectation. Anta brand realized mid-teens growth and non-Anta brand delivered yoy growth between 80% to 85%. Benefiting from rising same store sales and operation efficiency, we expect the turnover to stably grow in future. In 2019, it targets to deliver over 20% topline growth. We estimate 19E/20E EPS to be RMB1.82/2.20 respectively, and raise TP to HKD50.8, Accumulating rating. (Closing price at 27 Feb 2019)
Company Business
2018 results beating expectations. Anta's revenue rose by 44% to RMB24.1bn. GPM rose by 3.3ppts reaching 52.6%, but OPM declined by 0.2ppts to 23.7%, due to climbing selling expenses. Net profit attributable reaching RMB4.1bn, up by 33%. Net operating cash flow grew by 40% to RMB4.44bn. Dividend pay-out ratio dropped from 70% in 2017 to 45% in 2018.

Improving store sales and efficiency. As up to the end of 2018, the amount of Anta/ non-Anta stores reached 10,057/1,652 respectively, exceeding previous guidance ( Anta 9700-9800, Fila 14000-15000). Meanwhile, we see that same stores sales growth served as one main driver, given Anta/ Anta Kids delivering monthly sales of RMB220k/ 130k per single store (by 10% yoy), and Fila /Fila Kids recording sales of RMB700k/ 300k (up by 40%/ 50% yoy). Currently inventory level is getting better, with inventory days of key biz Anta maintained at around 4.2 months, and Fila's inventory days dropping from 150 days to 130 days. Improving efficiency is expected to go on to contribute to steady sales growth.
2019 guidance. The company aims to realize sales growth of 20% in 2019E, with Anta and Fila respectively growing by min-teens and 30%. As up tp 2020, the total turnover CAGR is targeted to be 15%~20%. For other bizs, Descent is going to actively explore and strive for turning profit in 2019E. While other new brands like Amer Sports and Kolon still contribute little to sales and profit.

Acquisition progress smoothly. The company announced that the acquisition of Amer Sports have been approved in related national regulations globally. The trade will be sellted in March. We highlight this transaction is an important step in Anta's exploration in overseas market.
Valuation & Risks
We raise target price to HKD50.8: Future momentum comes from rising store efficiency, rapid growth of Kids` product and further exploration of Fila and its subsidy bizs. Projected EPS is RMB1.82/2.20 in 19E/ 20E and target price is raised to HKD50.8. Risks include: Rising selling and R&D expenses; Sluggish retail market; Inefficiency resulting from so many brands under operation.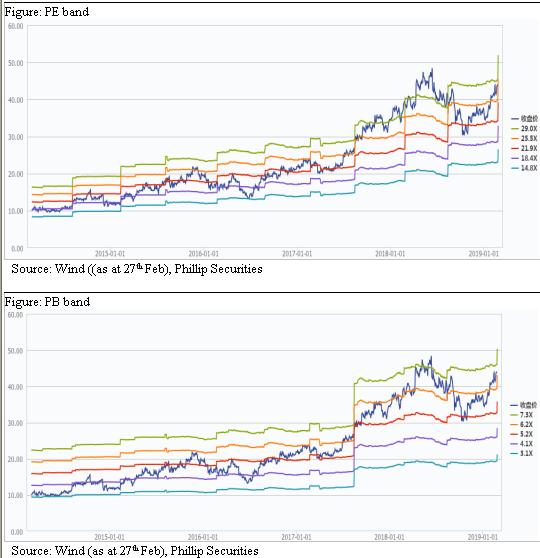 Financials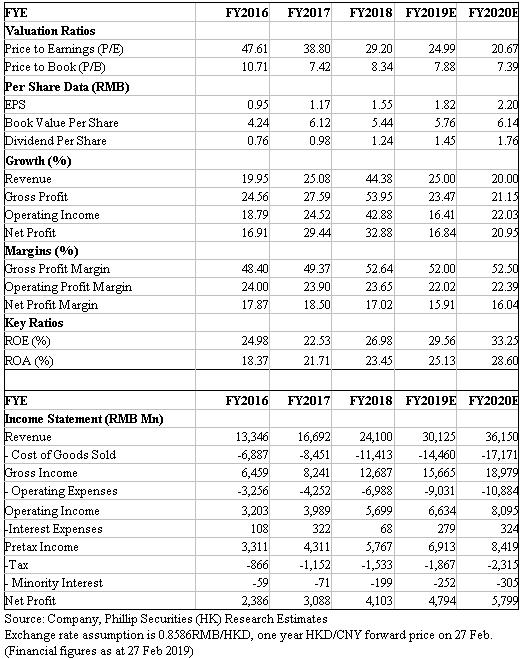 Back to Top