Wisdom Sports Group (1661.HK) - Certain Growth Prospect in 2016
Limited Impact of Terminating CCTV Advertising Agency Business
Since 2015, the company has officially changed its name to Wisdom Sports and has terminated its CCTV advertising agency business since 2016. We believe that although the decline in revenue from Wisdom Program & Branding is one of the primary factors for the drop in 2015's operating results, the impact is limited. Though the revenue from this business contributed to nearly half of the total revenue, its gross profit margin was less than 5%, far lower than 48% of revenue from the operations of sports events. On the contrary, priority will be given to sports operation in the future, so the company's profitability will be significantly enhanced.
Bright Prospect of Sports Business
We take an optimistic attitude towards the company's strategy of focusing on sports operation. Firstly, the added value of sports industry in developed countries accounts for about 1% -3% of GDP, but that in China in 2015 represented 0.7% only. If the latter can reach the global average in the future, there will be 2-3 times room to grow. Secondly, when GDP per capita reaches US$5,000, the sports industry will show a massive development. Presently, the China's GDP per capita has reached US$8,000, indicating that the China's sports industry is in a period of rapid development and that people's sports will shift from spectacularity to participation. Currently, the sports ൕth Five-Year Plan" is as follows: by 2020, the national target size of sports industry will amount to RMB3 trillion. In other words, the compound growth rate of the sports industry in the next five years will reach 17.2%, nearly three times the growth rate of GDP, so the sports industry is a deterministic growth industry.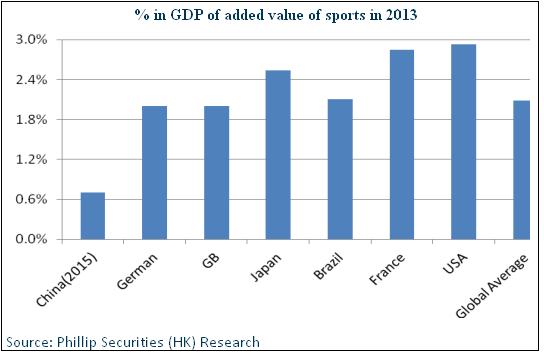 It is worth mentioning that the sports industry is currently in the staking stage. Despite numerous giants, enterprises that own intellectual property of sports events and brand advantage are few. Marathon operation of Wisdom Sports takes a leading position in the industry, and Season Run and urban walkathon is independently developed. Besides, Wisdom Sports also spares no efforts to promote "CBL" basketball, cycling, ice hockey and other projects. It is expected to create a complete intellectual property portfolio. Furthermore, the company has entered into a strategic cooperation agreement with a total of 14 provinces and cities including Beijing, Tianjin, Hebei and Liaoning in 2015 and has established the Public Sports Event Alliance of China. In the future, the company will organize more events independent intellectual property to support mid- and long-term growth.
Certain Growth Prospect in 2016
By 2015, Wisdom Sports has successfully operated 5 marathons and 6 "Season Run". It organized a total of 1,300 events and served a total of over 10 million people. Take the mature Guangzhou Marathon as an example. Its revenue stands at RMB50 million with a gross profit margin of around 60%. Besides, the sponsorship of each Season Run amounts to RMB10 million. Looking into 2016, the company will continue to increase investment in event operations. For instance, the number of marathons and Season Run will substantially increase to 35 and 30, respectively. At least 10 of the marathons are organized by the company. A rough estimate shows that the company's event operations of this year will still achieve a rapid growth, or is expected to make up for the losses caused by the termination of Wisdom Program & Branding Business. Besides, its profitability will also rise significantly.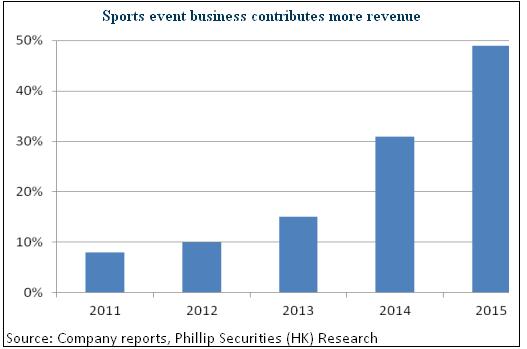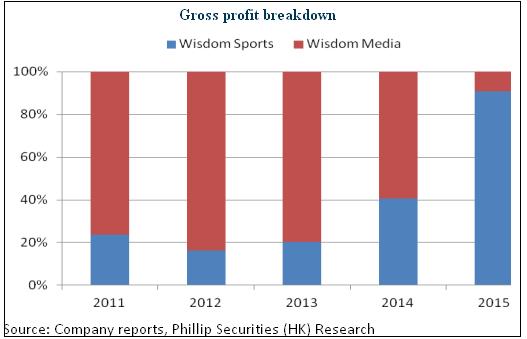 Plunge in Stock Price Basically Reflects Negative Expectation
The plunge in the company's stock price has basically reflected the negative expectation of decline in operating results. At present, although it still takes some time for the mature operation of basketball and other new intellectual-property-attached events and the expense input will partially affect the company's profitability, the company's operations of road racing will still guarantee short-term rapid growth, while the mid- and long-term development is supported by new events, sports media and expansion of sports services businesses. We give the company the target price of HK$3.3, equivalent to EPS 25x in 2016, with the "Buy" rating maintained. (Closing price as at 7 July 2015)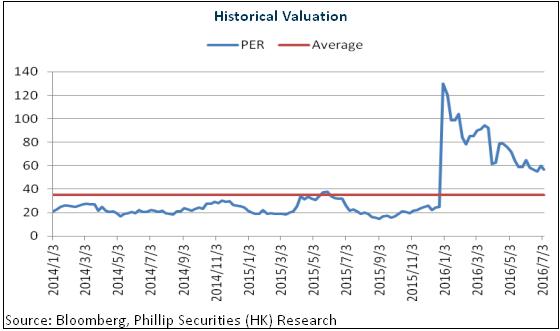 Risks
Stagnant economy leads to drops in advertising and sponsorship revenues;
Progress in expanding events falls short of expectations.
Financials
Back to Top