AIA (1299.HK) - VONB growth exceeded expectation
AIA is a major life insurance group in the Asia-Pacific region, the group is rooted more than 90 years, providing insurance protection, savings, investment and retirement and other financial services, providing services throughout 15 countries and cities.
FY 12 Financial Summary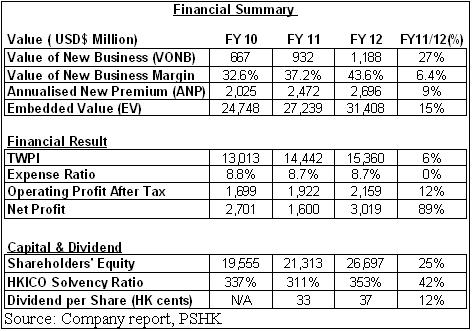 AIA recorded desirable growth last year. The main business indicators are better than our estimates:
1. The value of new business (VONB) recorded high growth, up 27% yoy to USD1.188 billion, slightly higher than our estimate of USD1.12 billion (approximately 6% higher).
2. Profit margin of new business rose from 6.4% to 43.6%, slightly higher than our estimate of 40% (approximately 3.6% higher).
3. Annualized new premiums climbed 17% yoy to USD2.696 billion.
4. Embedded value increased 15% yoy to USD31.408 billion, slightly higher than our estimate of USD30.934 billion (about 1.5% higher).
5. Strong growth in net profit, up 89% yoy to USD3.019 billion, slightly higher than our estimate of USD2.789 billion (about 8.3% higher).
6. Strong return on investment, which increased 2.65 times yoy.
7. 2012 full year dividend was HK$37 cents per share, up 12% yoy.
AIA recorded sharp growth in 2012. The financial indicators outperformed than our estimates, especially new business value, which is the major indicator of value creating. In addition, as we expected in previous reports, the Group benefited from the improved investment sentiment and the return on investment surged 2.65 times yoy. Fair values of equities improved from net loss of USD2.181 billion in 2011 to net gain of USD2.328 billion in 2012. The development potential of insurance and wealth management business in Asia is huge, we estimate that Group will enjoy high growth in the next 6 years, especially the core insurance and wealth management business. With the bright performance last year, we give 癒禮overweight` investment rating to AIA and raised the EPS of next two years to HK$2.3 and HK$2.5, up 15% and 13.6% respectively.
Operating Profit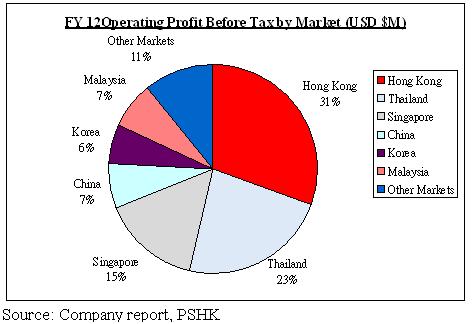 VONB
The VONB is calculated by the present value of estimated profit after tax in terms of sales generated by new business, less the operating cost supporting the new business, which is more than the required capital.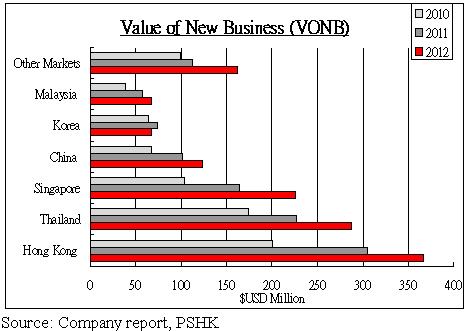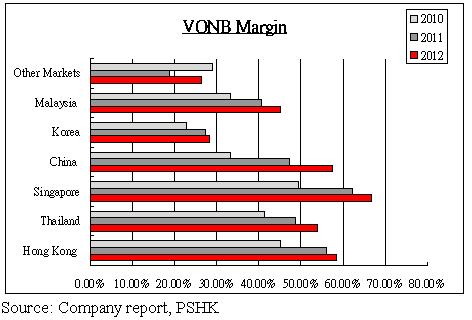 Annualized new premiums
Annualized new premiums is a index to measure the quality of new business, which is equal to the sum of 100% of annualized first year premiums and 10% of single premiums before reinsurance.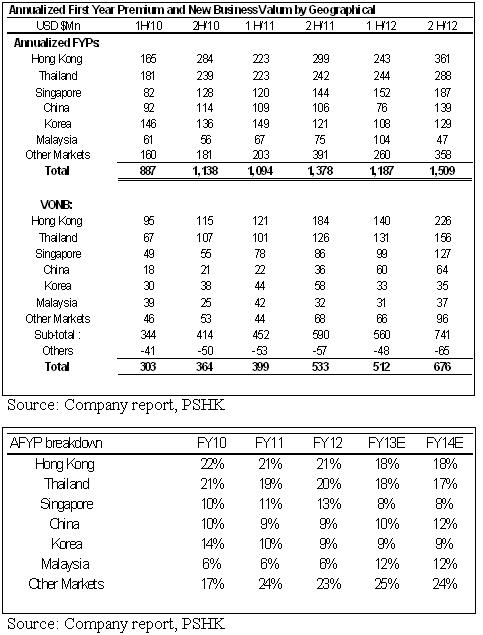 Total weighted premium income (TWPI)
TWPI consists of 100% of renewal premiums, 100% of first year premiums and 10% of single premiums.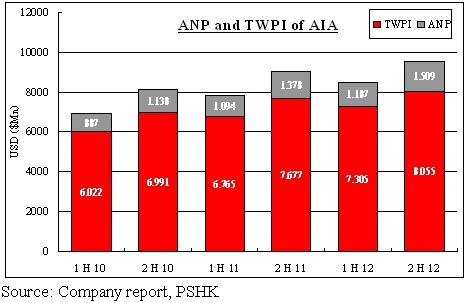 Investment Income (interest, dividend and rental)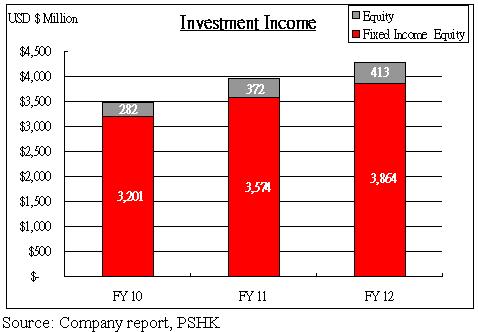 Embedded value (EV)
EV is an estimate of economic value of life insurance business based on a particular set of assumptions as to future experience, excluding any economic value attributable to future new business.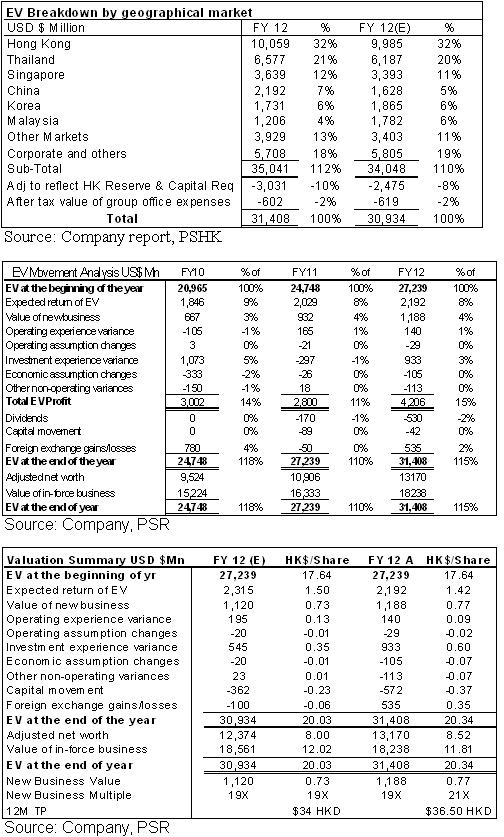 Valuation

We expect that the Group will grow at 9% annually in the coming six years and grow at 6.34% (rose 4bp) annually afterwards. Corresponding to a discount rate of 7.5%, we expect the insurance industry is over a period of high growth, after that, the growth rate will be with a linear decline. The Group distributed dividend of HK$37 cents per share in the FY12. By the H model, we calculated the intrinsic value per share of HK$ 36.50. Corresponding to current P/B rate about 2.106 times and P/E ratio about 18.70 times, embedded value multiples of the new business is around 21 times.
Major Risk
European crisis continues to worsen, negative impact on global economy
The Group's growth slower than expected
China's economy is deteriorating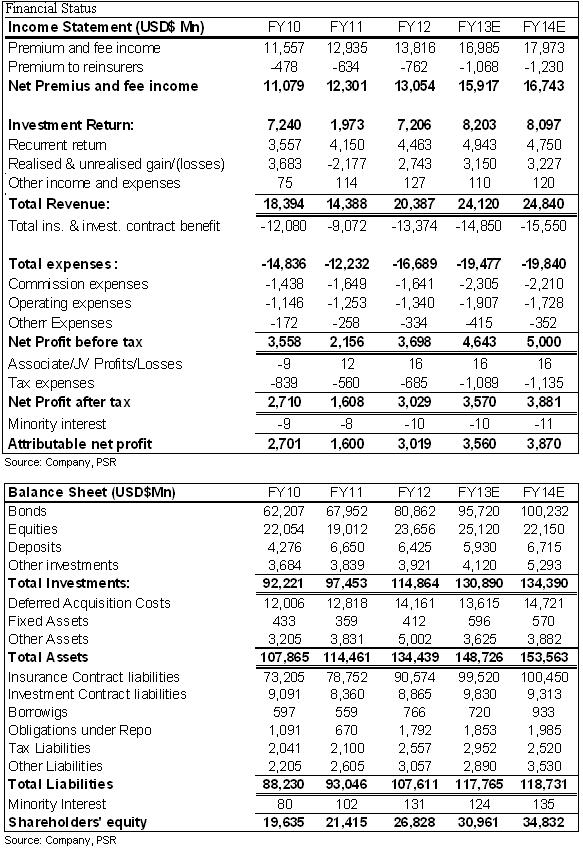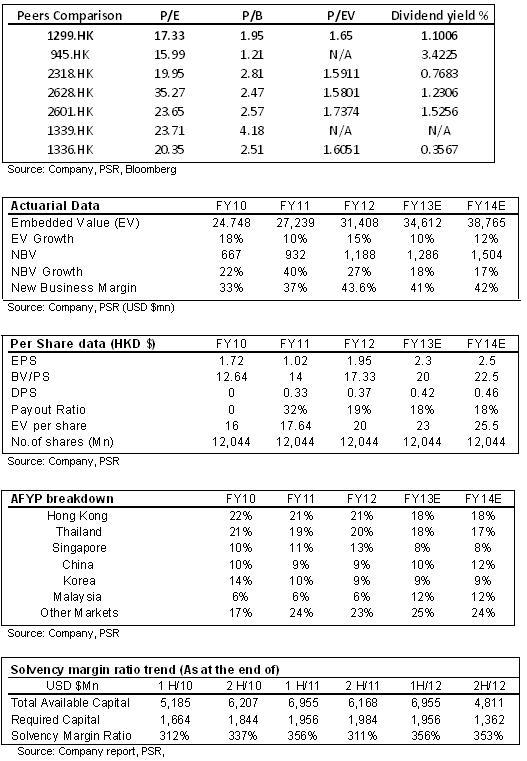 Back to Top